On December 7, 1941, the Japanese bombed Pearl Harbor. Although FDR rightly described it as a day that would live in infamy, my mother, being 21 years of age, said to herself, "Ugh! War! Well, I will pay it no attention at all," and set her mind to ignore it completely.
That worked for one day.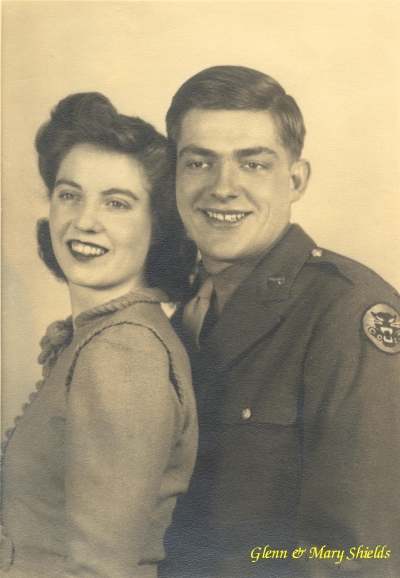 On December 8, 1941, my father and mother met.
They fell in love and Dad was drafted to serve in the European Theater.
On December 12, 1942, just over a year later, they married.
The war Mom had resolved to ignore turned out to be the focus of her attention.
On October 16, 1944, Dad was wounded on the battlefield and had to be evacuated to England, and then returned home to the farm near Brookville, where he and mom lived a good life until he died in 2001.
It's strange to imagine that one day people will regard these events in much the same way as I regard World War I or The War of 1812 — mere historic events, void of personal connection. It's strange. Kind of sad. And a bit sobering.
We like to think that the memories of our loved ones will live on in the course of human history, but, as someone has rightly observed, our great-grandchildren will probably know nothing about us much beyond our names. Any knowledge beyond that will be merely trivial and quite impersonal. And choosing to ignore this reality is no more realistic than a 21-year-old choosing to ignore World War II.
But there is an event in human history that never fades and always remains personal. It's the Advent of the Christ Child. This event — this divine life — is as personal to you and me as we want it to be. It can be as personal to us as it was to those who witnessed it firsthand, because what Jesus offers is a relationship with himself — the Risen King, the Living God.
On the wall of their home, Dad and Mom had a plaque that contained these words: Only one life; 'twill soon be past. Only what's done for Christ will last.
It's good to recall days that live in infamy. It's important to study human history. But here's something I constantly remember — what lasts throughout eternity has Christ at the center.
So, my dear brothers and sisters, be strong and immovable.
Always work enthusiastically for the Lord,
for you know that nothing you do for the Lord is ever useless.
1 Corinthians 15:58 (NLT).